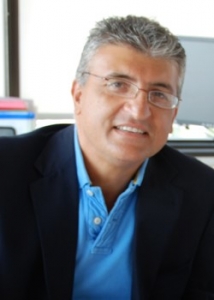 Ali Krisht was born in Kano, Nigeria, on September 17, 1959. He graduated high school from the International College in Beirut, Lebanon in June 1978 with honors and distinction. He attended college at the American University of Beirut and graduated with honors in June 1981 with a B.S. in Biology-Chemistry. Dr. Krisht played professional soccer during this time and was the Athlete of the Year in 1980.
Dr. Krisht went to medical school at the American University of Beirut and graduated with Honorable Mention in June 1985 and concluded his residency training at Emory University in Atlanta, Georgia in 1994.
In July 1994 Dr. Krisht joined Professors Al-Mefty and Yasargil as staff of the Department of Neurosurgery, at the University of Arkansas for Medical Sciences. He was promoted to associate then Professor of Neurosurgery and was Vice Chairman and a Professor of Neurosurgery until September 2009. In October of 2009, Drs Krisht and Almefty Co-founded the ANI, The Arkansas Neuroscience Institute. He is the present director and also the director of the Cerebrovascular and Neuroendocrine Clinics.
Since 1999, Dr. Krisht has been the chief editor of Contemporary Neurosurgery (a 28 year-old biweekly publication with more than 1,400 institutional and individual subscribers and provides CME credits to its readers. He also serves on several editorial boards of medical journals.
Dr. Krishts areas of expertise are cerebrovascular, pituitary tumors, and skull base tumors. He has published extensively including over 50 peer-reviewed manuscripts and was the main editor of the book Pituitary Disorders: Comprehensive Management. He has also participated in editing several books and has written 20 book chapters.
He has been frequently invited as a visiting professor to national and international meetings and has given more than 170 presentations and lectures. He is a very dedicated teacher and has been faculty and director of over 40 workshops and hands-on courses.
Dr. Krisht is on several national and international societies. He is also active in local community and has served and vice president and president of the Robert Watson Arkansas State Neurosurgical Society.
During his career Dr. Krisht has won many awards including the Editorial Excellence in Newsletter Journalism, Five Star Spirit Award amongst others. He has been chosen by his peers to appear in the Best Doctors of America publication.
Dr. Krisht continues to be active in sports. He enjoys running and playing soccer. He is married to Nashwa Bazzy Krisht and they have four children: Geenah, Liana, Ayah, and Hasun.