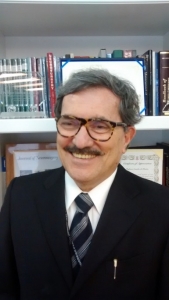 Prof. Evandro de Oliveira, MD, PhD

Dr. Evandro de Oliveira received his M.D. in 1969 from the Faculty of Medicine of
the Federal University of Santa Catarina, Brazil, and served his neurosurgery residency
at the Institute of Neurology and Neurosurgery at the Universidad de la Republica,
Faculty of Medicine, in Montevideo, Uruguay, under the guidance of Prof. Ramon
Aranã-Ignez, Uruguay. Prof. Aranã-Ignez was well known and respected neurosurgeon
worldwide. There also did a post-specialization in Neuroradiology with Prof. Nestor
Azambuja. Upon learning and practice the Microsurgical Anatomy from Prof. Rhoton
for 2 years and Prof. Yasargil during 1 year, among other, and soon realizing its great
impact on neurosurgical activity as a whole, he was Fellow at the services of Profs.
Drake, Malis, Charles Wilson and Thoralf Sundt.
He received his PhD in Functional Anatomy from the University of São Paulo – USP. Based in São Paulo, Brazil, he organized his Neurosurgery service at the Hospital Beneficência Portuguesa and later at the Faculty of Medicine of the University of São Paulo – USP and at the State University of Campinas – UNICAMP, where he was Professor of Neurosurgery for 10 years. He is currently Adjunct Professor of Neurological Surgery at Mayo Clinic (Jacksonville, USA), Professor of Neurosurgery, Head of Neurosurgery at Hospital BP Mirante and Chief of the Neurosurgery Residency Program of the Hospital Beneficência Portuguesa of Sao Paulo, Director of the Institute of Neurological Sciences, as well as Director of the Microsurgery Laboratory at the Hospital Beneficência Portuguesa, where has received at this moment about 6.000 colleagues from around the country and even abroad for training and for the Educational Continuing Courses. Dr. de Oliveira develops, since then, his well-recognized research, contributing with numerous national and international publications in the areas of neurosurgical approaches, neurosurgical microanatomy, cerebrovascular diseases, brain tumors, vascular neurosurgery and skull base surgery as well as related fields.
Dr. de Oliveira is a member of several surgical societies and serves on several editorial boards of medical journals and his scientific contributions include authoring or editing books, peer reviewed journal articles and book chapters.
He has been honored by several prestigious lectureships and presented with honorary memberships in skull base and neurosurgical societies aboard and has made numerous presentations and Visiting Professorships in national and international universities. Dr. de Oliveira is married with Marina for 44 years and has 2 daughters, Romina,
graduated in Medicine, and Sabrina, graduated in Gastronomy.